Christian Faverham Group: Event Business News
Hog Roast Direct is a proud member of the Christian Faversham Group of Event Hire and Catering Companies.
You can read more news updates covering our latest hire inventory, customer stories and notable events on our blog page.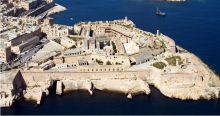 We are proud to have recently supplied and delivered a very large quantity of Kitchen & Catering Equipment for a 2-week event taking place in the magnificent setting of Fort St. Elmo in Valletta, Malta.
read more