Christian Faverham Group: Event Business News
Hog Roast Direct is a proud member of the Christian Faversham Group of Event Hire and Catering Companies.
You can read more news updates covering our latest hire inventory, customer stories and notable events on our blog page.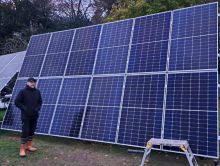 Our first Hampshire Rocker was designed and built to mitigate some of our carbon foot print. Twelve x 375w Aticnic monocrystaline solar panels in series multiplying to 600v DC to 1,000v surge protector.
read more